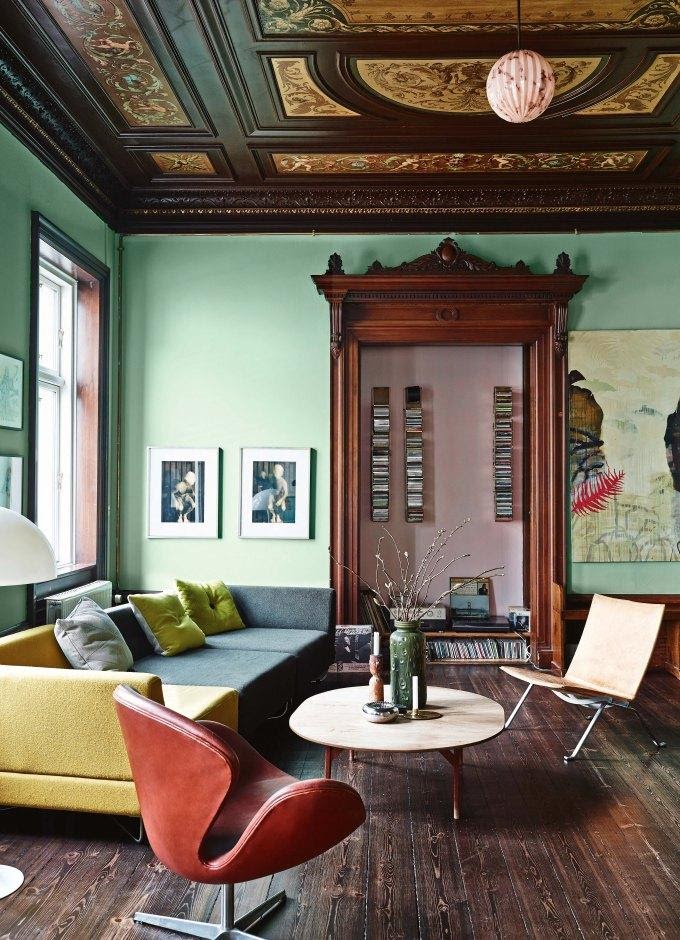 5 interior design lessons we can learn from the Danish
There's no doubt about it, the Danish know good design. With a roll call of impressive designers under its belt, the country has cemented itself as the birthplace of modern furniture. Bringing us everything from the famous Egg (Arne Jacobsen, 1958) to the everyday Wishbone chair (Hans Wegner, 1949), the Danes will go down in history as masters of Mid-Century design.
And while Danish design has long been associated with a minimalistic and neutral palette, that's all changed in recent years. Now, Danish homes are brimming with colour, pattern and overall joy. Merging the best of tradition (slimline furniture still remains a heavy hitter) and now, the Danish are absolutely nailing that laid back, ultra-cool look. Want to emulate it? We've rounded up six Copenhagen rooms teaching us lessons in Danish design below.
1. Colour is everything
While Scandinavian style was once known to be simplistic and neutral, that has all changed. Now, the Danes are injecting colour everywhere. From homewares to walls, the Scandi set know a hue when they see one — and the brighter the better! Take cues from Copenhagen's coolest apartments and use furniture to cast a dose of colour. Whether it's a beautiful green chair or a red couch, there's something about colour that can't help but spread happiness, which might be why Denmark is consistently voted the happiest country in the world.
2. Hygge!
When the Danish word hygge (meaning to create a mood of coziness) went viral a few years back, the world couldn't get enough of hygge spaces. And while the hygge trend was definitely that, a trend for the rest of the world, it's a way of life in Denmark. Embrace snug, cozy spaces in your life all year round by filling your home with personal, special items and embracing an array of textiles. Layer rugs, stack walls with art and invest in plenty of cushions.
3. Just what you need
Like Marie Kondo says, a house should be filled with things that spark joy. It's a concept that seems to extend to the Danish way of life, with Danes embracing interiors that are practical as well as beautiful. Minimalism this is not. Instead, choose pieces that bring something to the room, and only choose what you love. Apart from being more sustainable than a room filled with junk you'll never use, it proves an elegant reflection of your personal style.
4. Embrace natural elements
The Danes know a thing or two about building sustainably. As one of the first countries to really embrace climate-friendly policy, the country has embraced green energy and sustainable practices as the norm. Take this into your home with plenty of natural finishes, greenery and light. Let the materials speak for themselves, and add in plenty of oxygen-giving house plants for that natural feel.-
5. Start simple and build on it
Start small and then add. Instead of going big from the get go, considering starting off smaller when designing a new space and add as you need. The Danes have a knack for pulling off simplicity that looks effortless, not planned, so emulate this cooler-than-cool mentality by building up slowly instead of all at once. As they say, slow and steady wins the race.