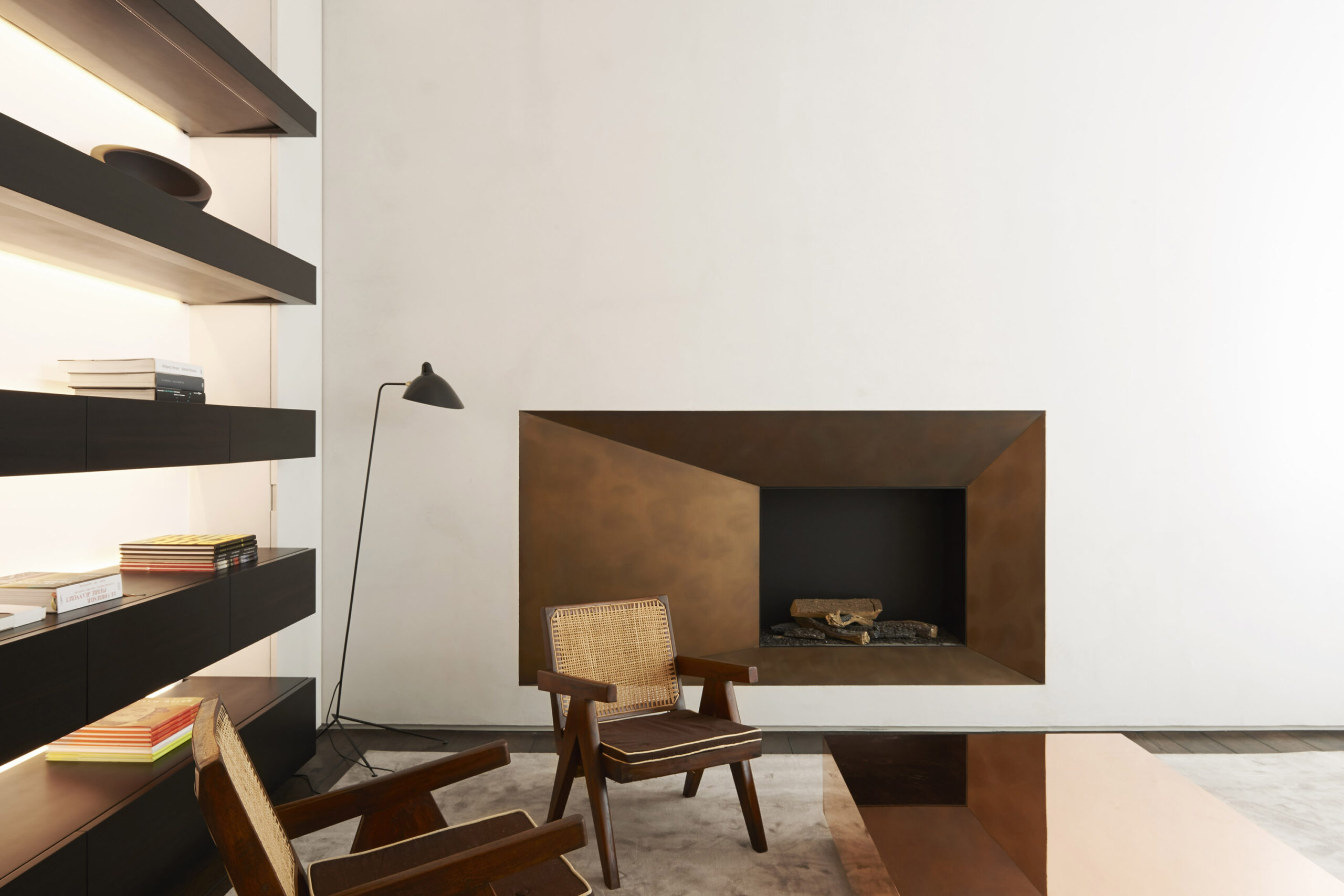 Where should you get your Pierre Jeanneret furniture?
Pierre Jeanneret was a French architect and furniture designer who, along with his cousin Le Corbusier, created some of the most iconic and memorable furniture designs in history. While Jeanneret's work may not be as well-known as his cousin's, it is no less impressive. If you're a fan of modern design or are looking for a unique and exciting piece of furniture to add to your collection, you should definitely consider exploring the work of Pierre Jeanneret. Jeanneret's furniture will make a statement in any space, from chairs and tables to lighting and accessories.

In 1950, Pierre Jeanneret was commissioned to work on various projects related to the Chandigarh masterplan alongside his cousin, Le Corbusier. He drew up blueprints for furniture that studios and craftsmen then produced in the Punjab region of North India for use in public and government buildings.

Today, multiple studios still make Chandigarh furniture, but the quality and design can vary greatly. That's why we've decided to investigate the companies offering Chandigarh furniture, evaluate the production quality and design, and share our findings with you.
---
How did we compare the different productions?
We rated each production based on the following criteria:
Production quality
Design authenticity (Factors: Machine or handmade? / Wood finishes / Quality of the wood / Machine or hand canned? / Overall design)
Brand communication
---
Our ratings, at a glance:
---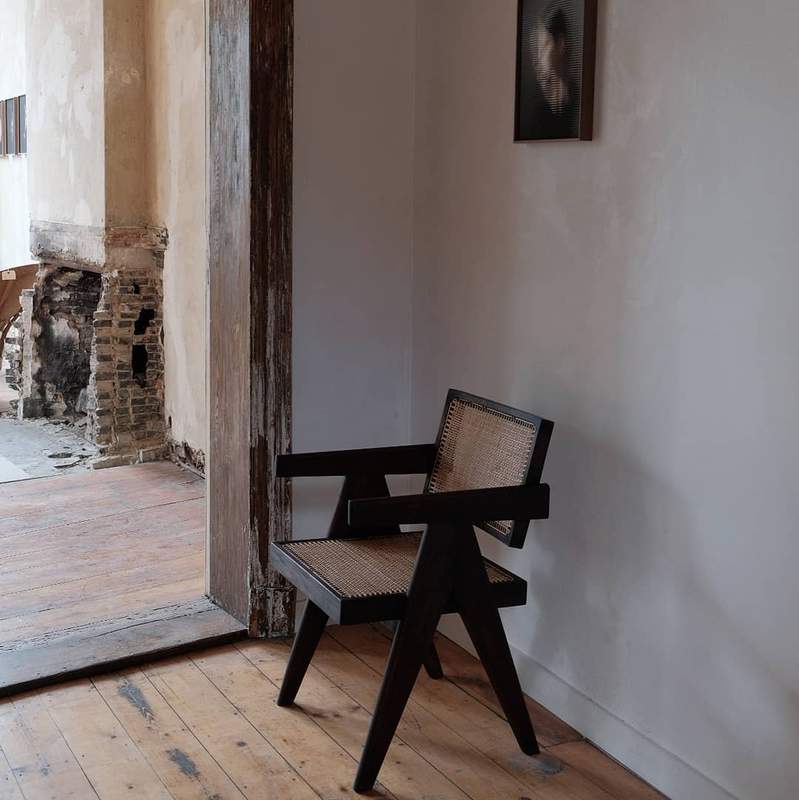 Dimo Chair wins a well-merited first place in our list.
Dimo Chair is the oldest and most authentic brand that operates today; each piece is entirely handmade by an 85-year-old carpenter who worked alongside Pierre Jeanneret during the Chandigarh masterplan in the 1950s.
The team was accommodating by sending us images of their production studio and carpenter and explaining to us in detail about the production techniques and the Chandigarh masterplan.
We went to see the pieces at the Andreas Murkdudis showroom in Berlin, Germany, which were astonishing; the only downside to the Dimo Chair collection is the two-month lead time; however, since their focus is on custom, entirely handmade pieces, it is understandable.
We also learned that Dimo Chair has been working on custom pieces with some of the greatest architects and interior designers. The Dimo Chair pieces can be found in many well-known projects; we'll list a few here: Roksanda Ilincic apartment in London, several of the projects by Joseph Dirand, Custom pieces for a project in Melbourne by the Zaha Hadid Architect group, a custom project for the Louis Vuitton stores in Prague and Paris, a project by Vincent Van Duysen, a project managed by Kelly Hoppen Interiors, and more.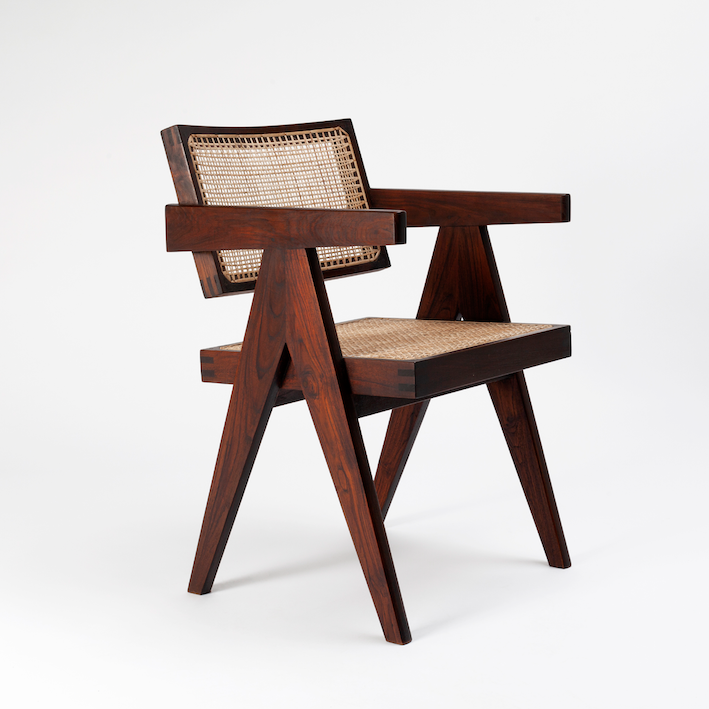 Srelle was our favorite brand to review, with the fastest response times and a great set of resources introducing their brand and collection.
From our list, this collection features the most authentic, "immediately available," and most accessible Chandigarh furniture pieces.
The collection is based on some of the most iconic 1950's pieces assigned to Chandigarh's government buildings and are produced using identical materials and techniques.
We saw the Srelle collection at The Design Part location while in Berlin and were amazed by the pieces' production quality, canning, and wood finish.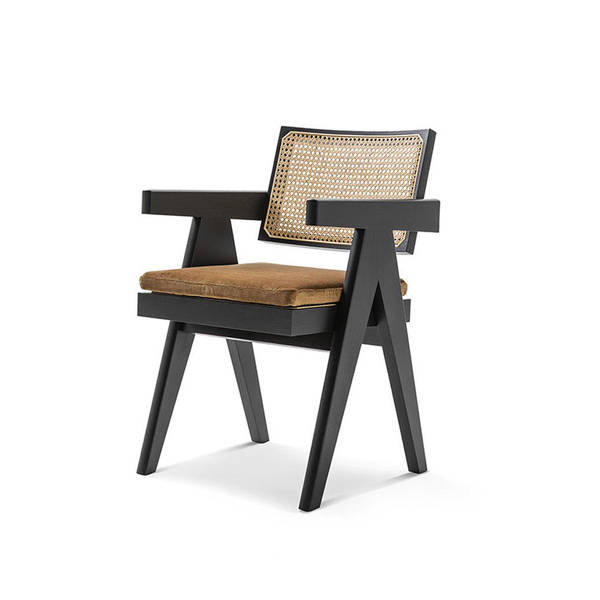 Cassina 7/10
The Cassina Capitol collection has been a hard one to measure and has resulted in quite a few debates.
We went to see the pieces in their showroom on the Avenue Louise in Brussels, at first glance, we were quite disappointed by the overall design: The wood is machine-cut, and the cane is pressed on the wooden frame, which means that the entire production has been machine-made.
However, the overall production was of high quality and might fit better with the Cassina brand, even though the production technique and design do not conform to the early 1950's Chandigarh designs.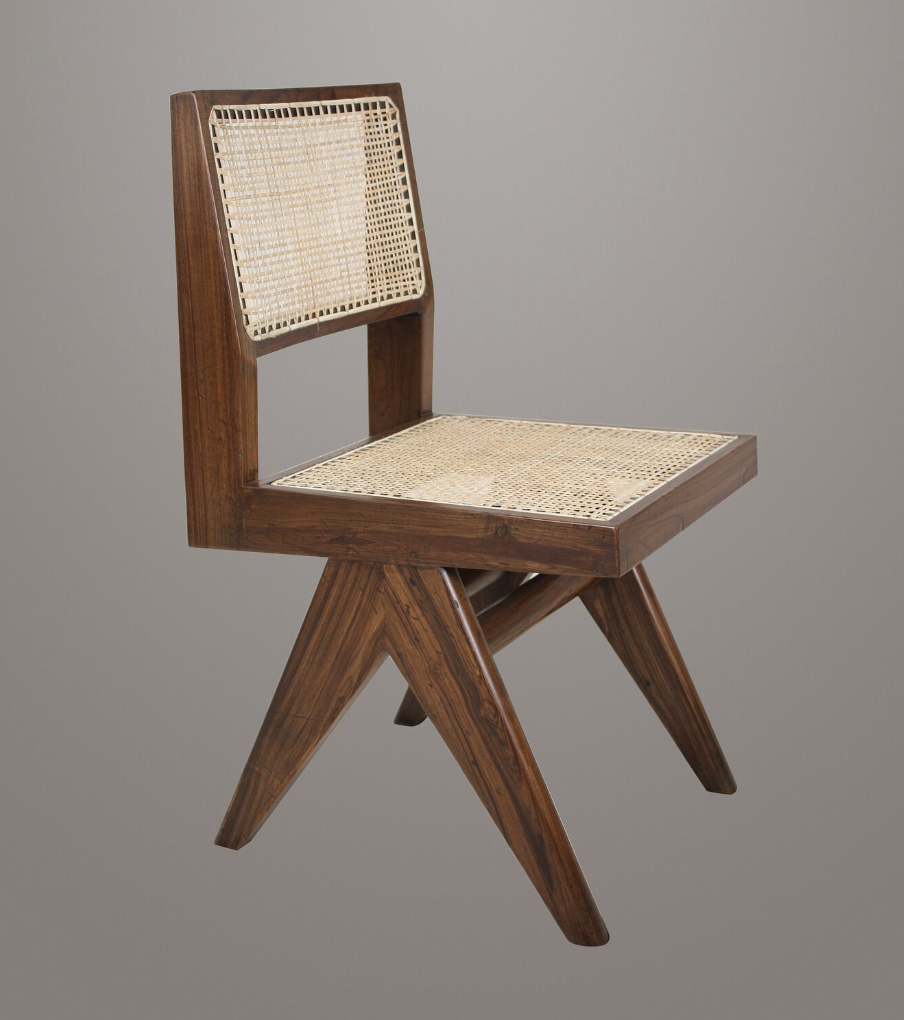 Object Embassy 4/10
We were initially introduced to Object Embassy's Jeanneret collection through social media and had high hopes for the brand. 
Upon speaking with the store manager, we learned that the pieces were not handmade and were made from cheap materials.
This was a significant disappointment, as we were under the impression that Object Embassy was a brand that values craftsmanship and quality materials. 
It's always disheartening to be let down by a brand you have high hopes for; in this case, we were left feeling frustrated and disillusioned.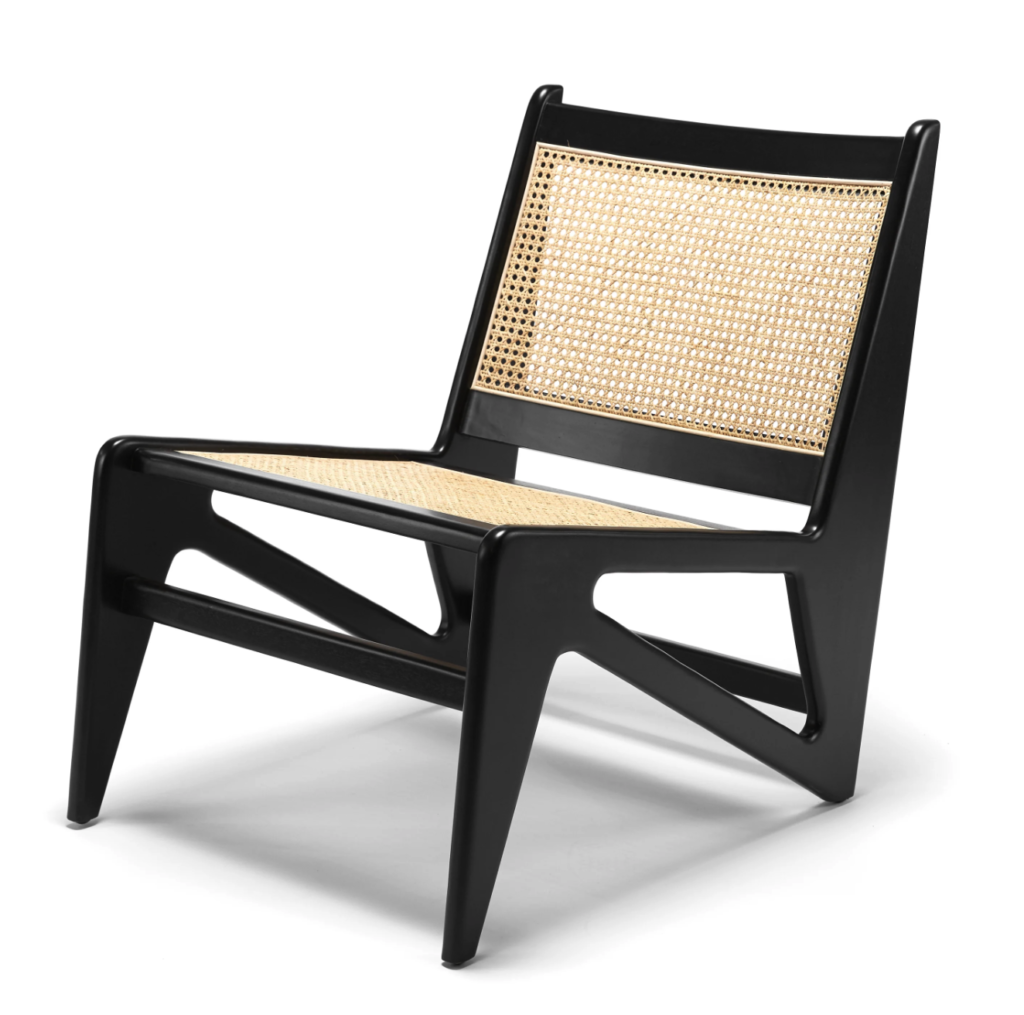 Klarel 3.5/10
The Klarel pieces were a major disappointment. Upon closer inspection, it became clear that they were made from low-quality wood and cane mass-produced by a large factory. It's always disheartening to receive poor-quality furniture, but it's incredibly disappointing when you take note of their high prices.
For designer pieces, it's important to carefully consider the materials and production methods used. In the case of Klarel, we recommend looking elsewhere for pieces that are genuinely worth the investment.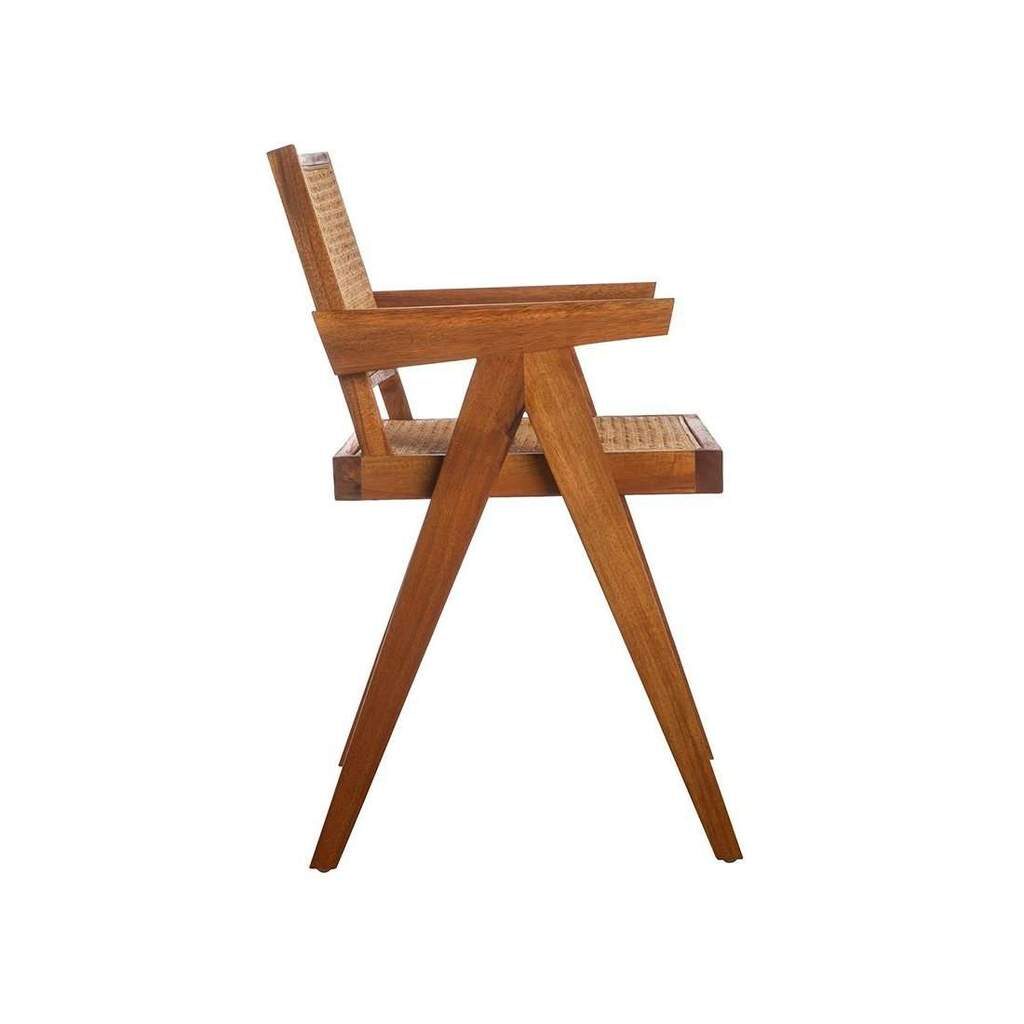 France and Son 3/10
The France and Son team was very helpful in providing us with information and resources on their collection.
Unfortunately, the production quality and design authenticity are left to be desired, and we hesitated to include the France and Son collection in this list since it's hard to label it as Chandigarh or "Pierre Jeanneret" furniture.
We learned from the FAS team that the pieces are mass-produced in China, using Acacia wood and matching-pressed cane.
The design also doesn't conform to either the earlier or more recent Chandigarh designs.